Hello




"【ピックアップガチャ開催!】 3/15(木)メンテ終了後より新イベント「桜の星で芽生えた絆」がスタート! 併せて「桜雲のディアス」「桜花のマリア」の出現確率がアップしたピックアップガチャが登場します! ピックアップ期間は3/29(木)メンテまで! #アナムネシス"

"[Pickup gotcha held!] 3/15 (Thu) After the end of maintenance, the new event "the bond that sprouted with the star of cherry Blossoms" starts! In conjunction with [Diaz of Cherry Blossom] [Maria of cherry Blossoms] pick-up gotcha appeared probability is up! The pickup period is 3/29 (Thu) Maintenance!"

Link-https://twitter.com/SOA_SQEX/status/974180959288360960

I'm tempted to get them I do want Cherry blossom Maria but I heard Blue Cloud Dias is very good.

--From discord--

Character: Cherry Blossom Maria Traydor
Availability: Gacha Limited 3/15/2018 - 4/5/2018
Role: Attacker ACE 5☆ to 6☆
Weapon: Dual Sword
Talent: Cherry Blossom Riot - Nullify Critical Damage taken while Charge Assaulting (All Attackers) / ATK Damage +40% while Charge Assaulting (All Attackers)
Adaptable - ATK +15%/+30% when Hit Count is over 100/200 (Self)
Moral Beauty - AP Consumption -40% (Self)
Hunt Leader - ATK +20% (Self) / HP +10% (Self)
Rush Combo: Radiation Bots - AP Consumption -50% (Self 20 seconds) / Recover 10% of Max HP every 3 seconds (Self 20 seconds)
Power: ATK x 5,000% Max Hit Count: 20
Skills: Sinistral Edge (Cherry Blossom) 14 AP - Power: ATK x 190% Max Hit Count: 2
Dextral Zapper (Cherry Blossom) 31 AP - Power: ATK x 460% Max Hit Count: 2
Northern Cross (Cherry Blossom) 30 AP - Power: ATK x 440% Max Hit Count: 2 Element: Ice
Dual Sword Arts 37 AP - Power: ATK x 710% Max Hit Count: 6
LB 10 Level 70 Status:
HP: 17,210
ATK: 3,433
INT: 1,549
DEF: 1,811
HIT: 1,148
GRD: 826

Character: Cherry Cloud Dias Flac
Availability: Gacha Limited 3/15/2018 - 4/5/2018
Role: Shooter ACE 5☆ to 6☆
Weapon: Dagger
Talent: Armory Contest Winner - Will not flinch to damage under 15% Max HP (All Allies) / Agro Rate +2 (Self)
Cultivated Victories - Damage +40% when under agro (All Allies) / ATK & INT Damage taken -20% when under agro (All Allies)
Momento Ring - Damage +50% when not under agro (All Allies) / Critical Rate +20% when not under agro (All Allies)
Changing Heart - ATK +15% (Self) / DEF +15% (Self) / HP +30% (Self)
Rush Combo: Phoenix Blast - Single Target Damage +30% (All Allies 20 seconds) / AP Recovery Speed +50% (All Allies 20 seconds)
Power: ATK x 4,000% Max Hit Count: 10 Element: Fire
Skills: Lightning Chain (Cherry Blossom) 16 AP - Power: ATK x 160% Max Hit Count: 9 Element: Thunder
Flying Guillotine (Cherry Blossom) 19 AP - Power: ATK x 310% Max Hit Count: 4
Dancing Sword (Cherry Blossom) 40 AP - Power: ATK x 1,300% Max Hit Count: 7
Phoenix Drive 20 AP - Power: ATK x 490% Max Hit Count: 2 Element: Fire
LB 10 Level 70 Status:
HP: 18,564
ATK: 2,854
INT: 1,523
DEF: 2,099
HIT: 1,239
GRD: 910

---End of discord--

I head This version of Dias is very very good and he knocks out defender Dias

If you love Dias and want to support him get this version of him people like this version of Dias now if you have a awaken Dias well you might as well stick to him since you got him awaken I myself was working on him on both accounts my defender Dias but I stop since I got A2.

久しぶりにNo.6見たくなってきた
"I want to see No. 6 after a long time"
Link-https://twitter.com/SOA_SQEX/status/974817707429265408

Word is SOA is now ranked 6 woo they are doing good in sales $$

So Cherry Maria and Cherry Dias brought them in beside the Neir characters I want to give up the 9S chase on my main account...T_T he keeps avoiding me

But...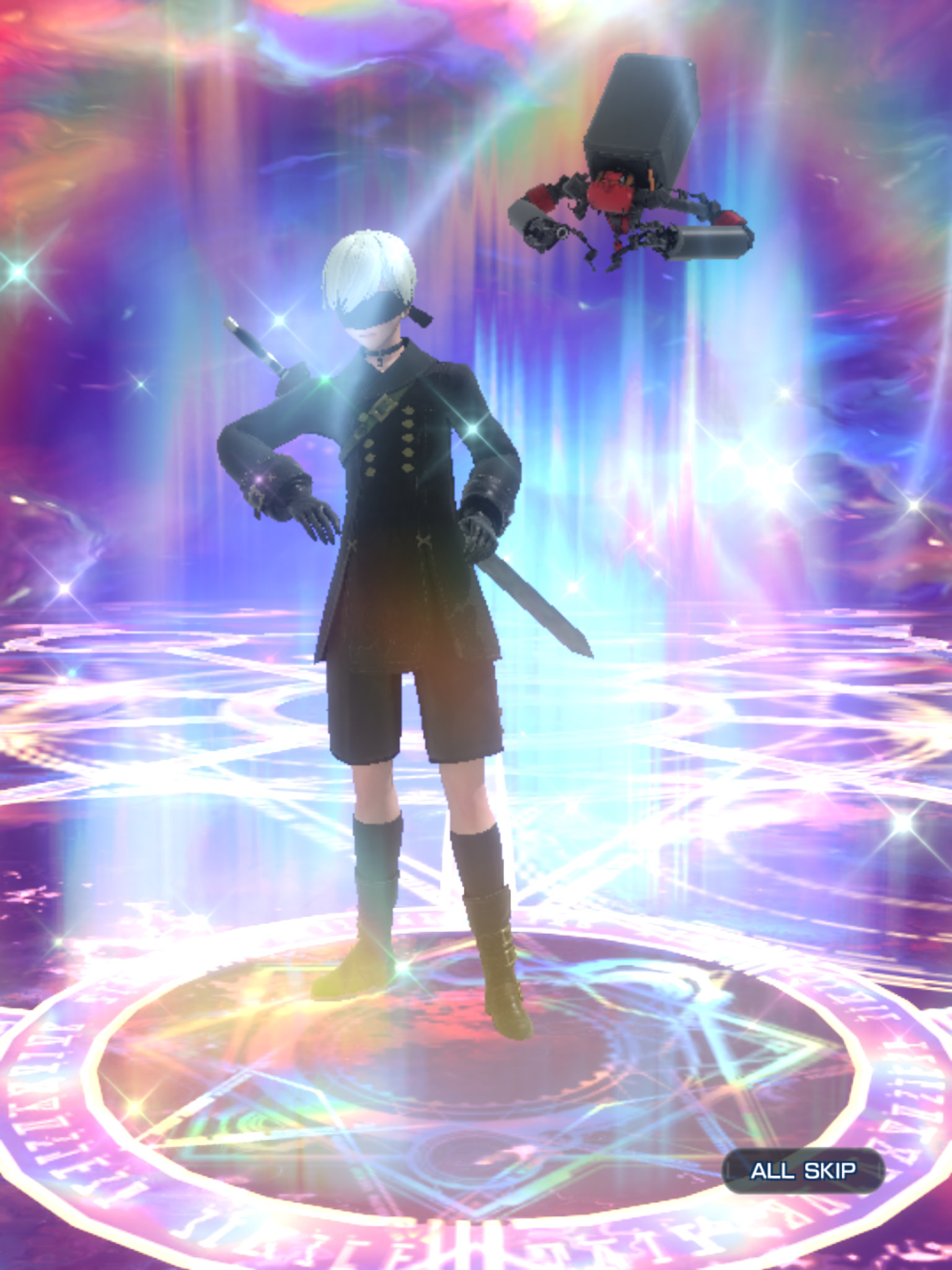 9S...9S!....On my alt!!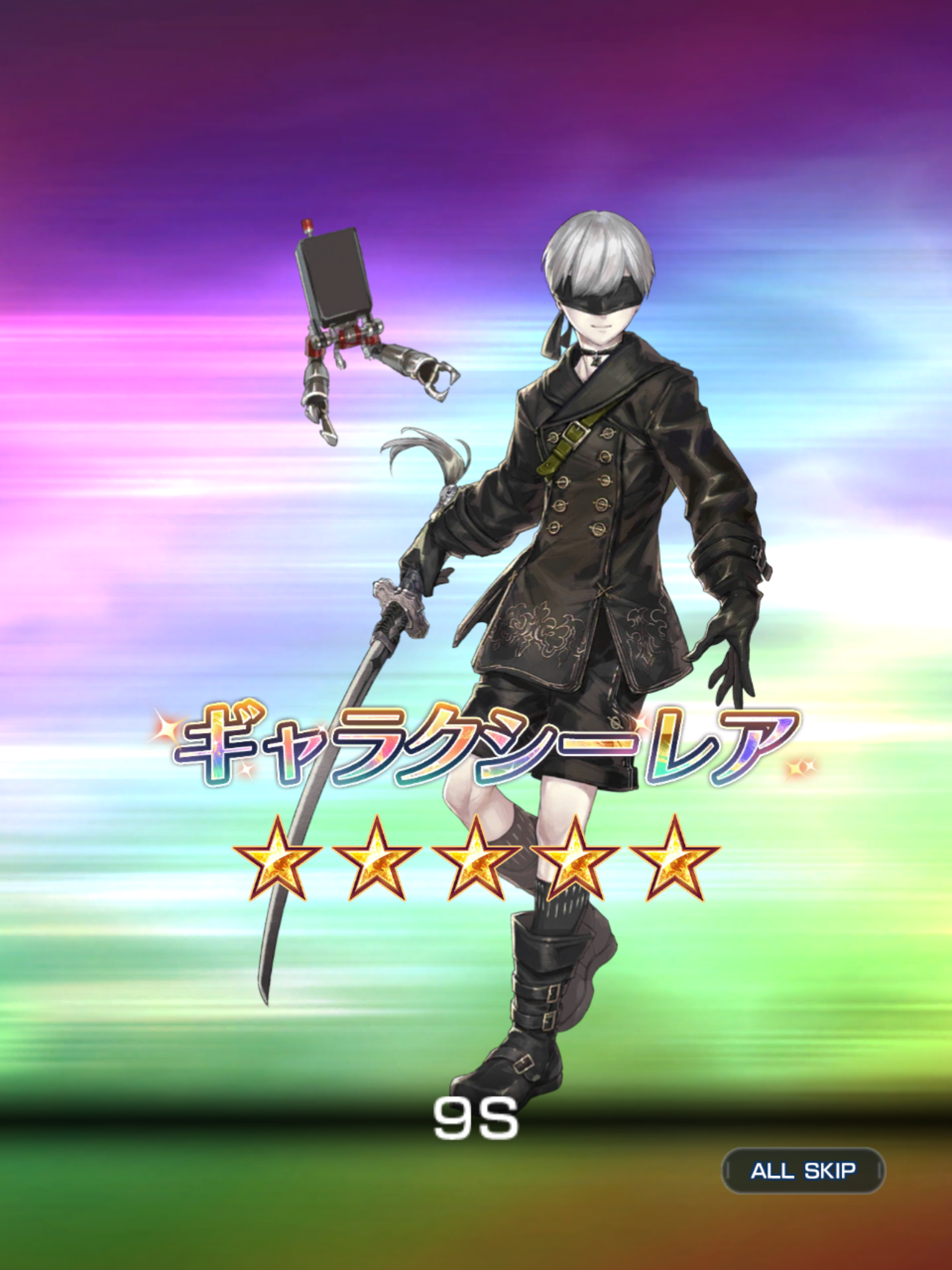 The 9S dream...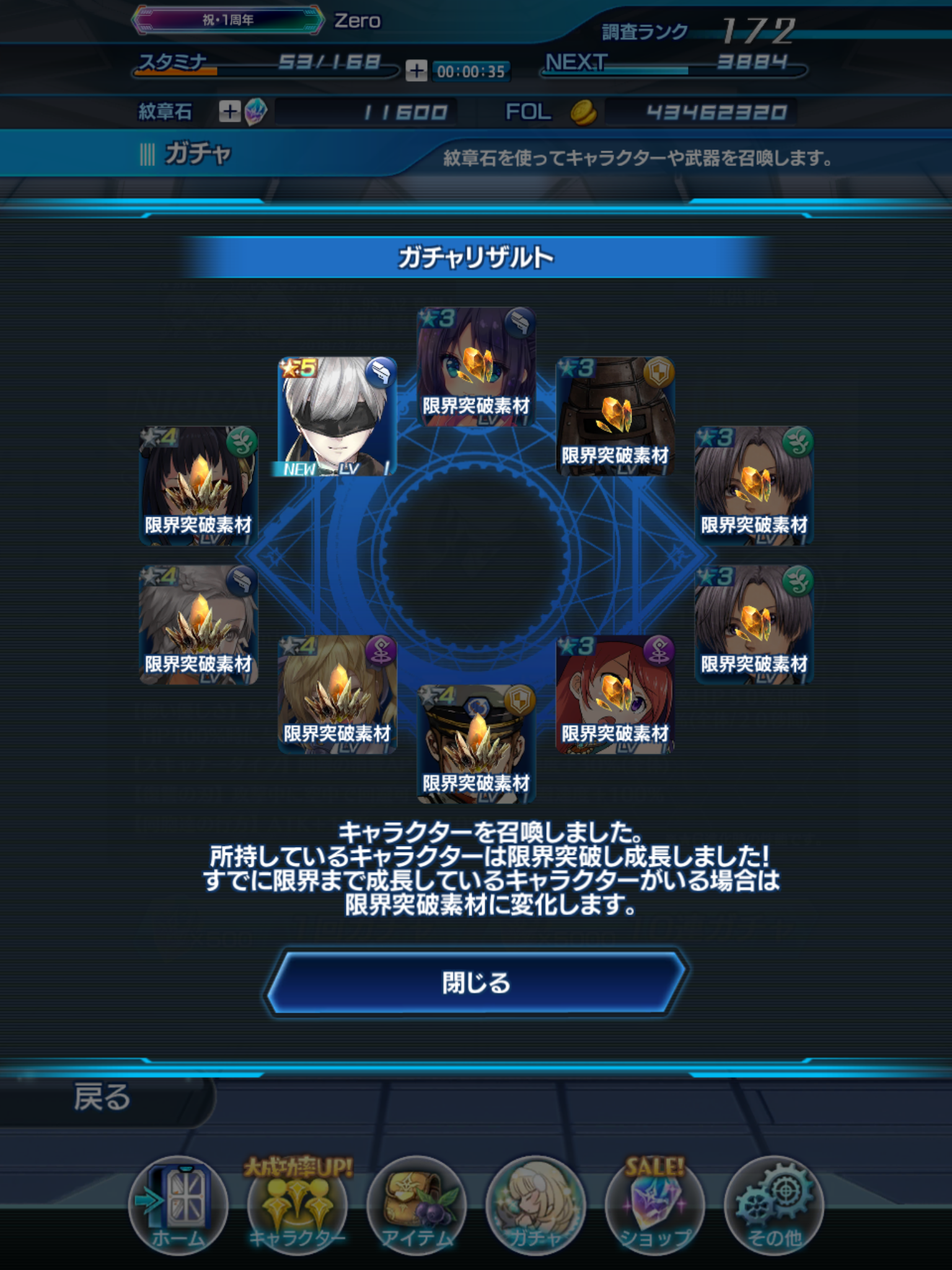 Zero has 9S!...on my alt!...>_< O_O

The same day my alt got 9S Zero also got...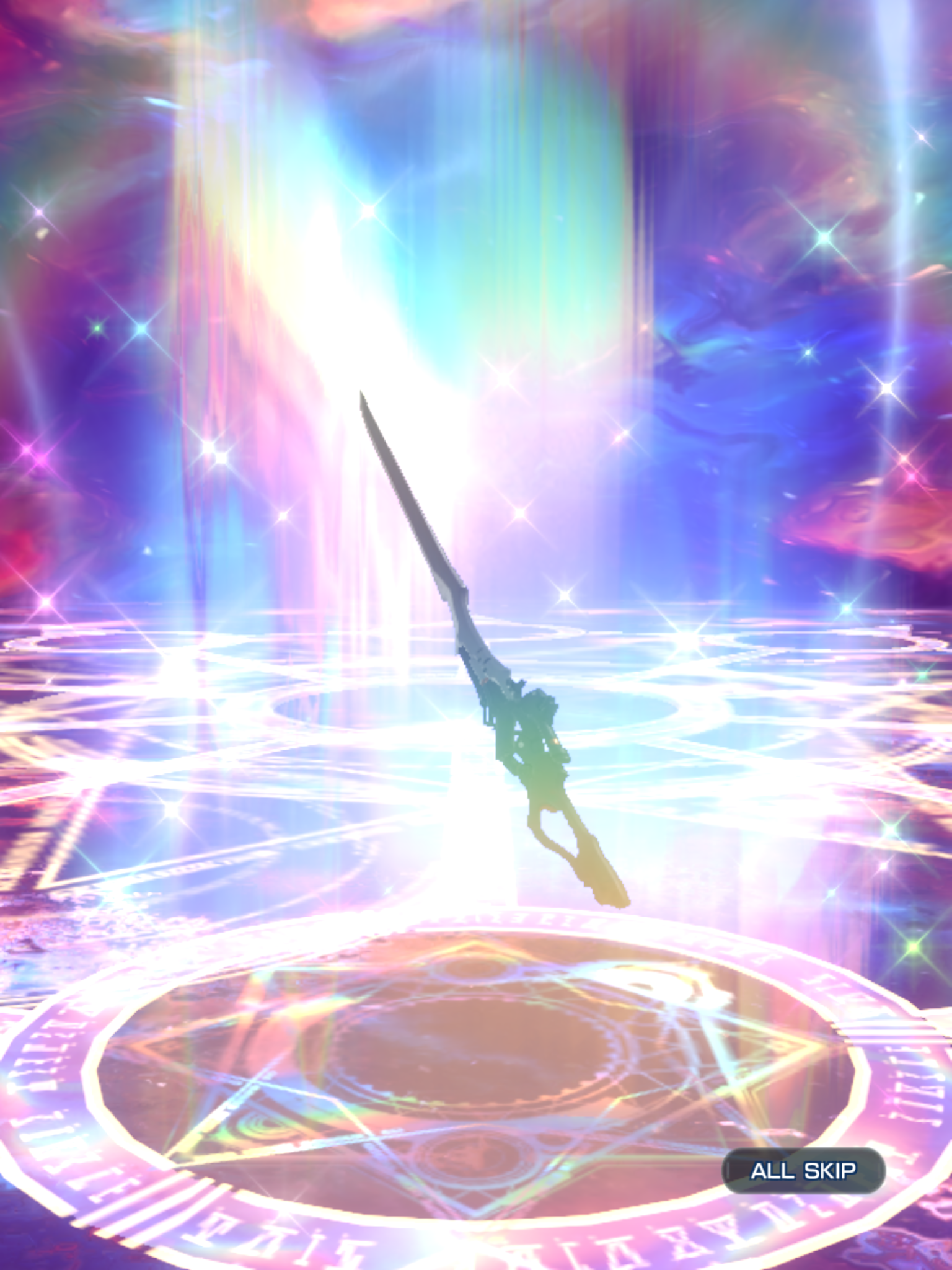 That Sword...



Yes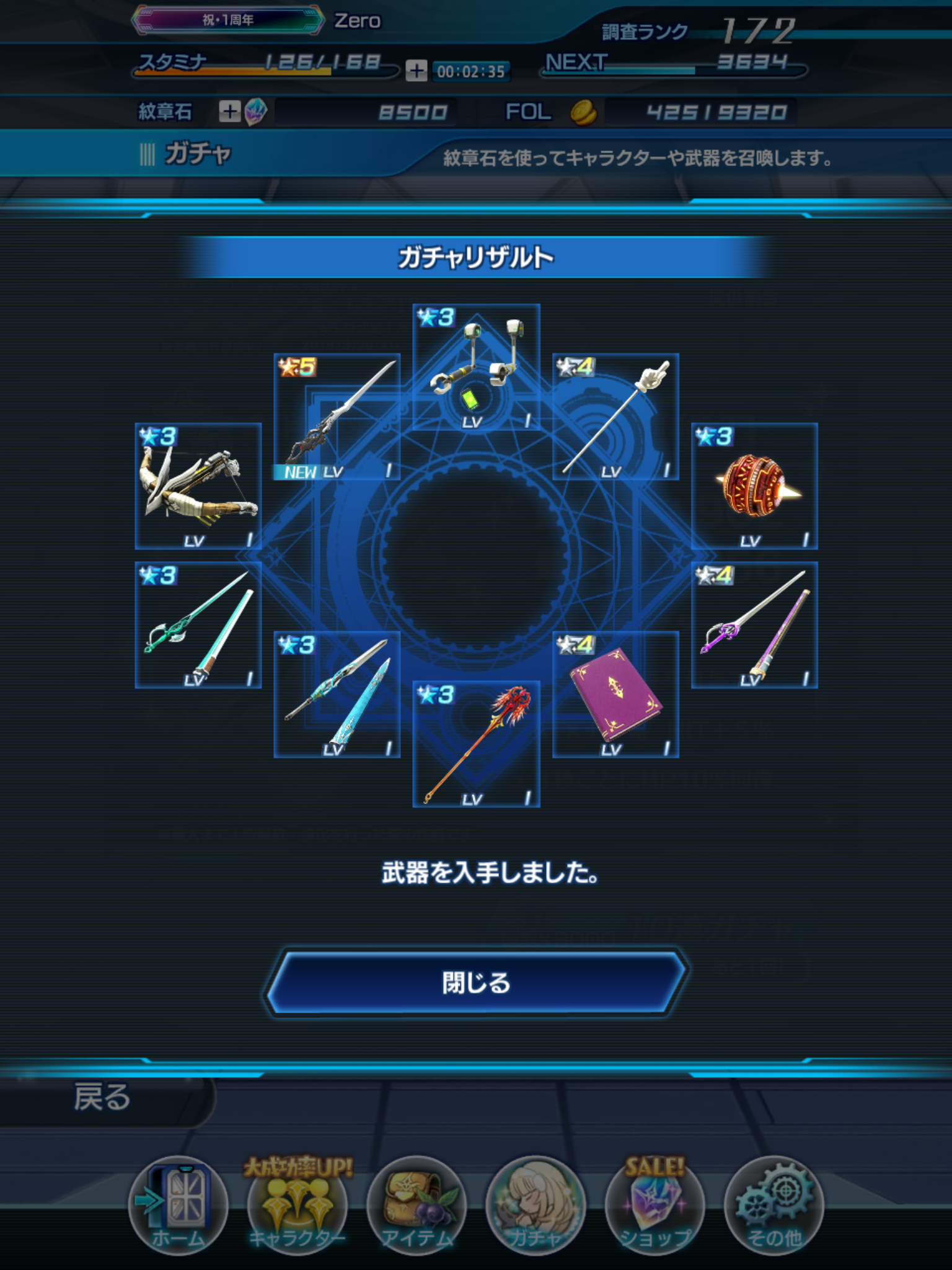 Pretty however I thought this sword was useless in fact people say it's good for Fayt users I go for Elemental swords myself but...this was temptation.

Few days to a week after maybe more that I did the daily roll and I got my first free rainbow in such a long time for Zero and it was...

Rena...? my alt has a major good healer??...

I even said 'Rena' win the rainbow come and it was...


Fayt!...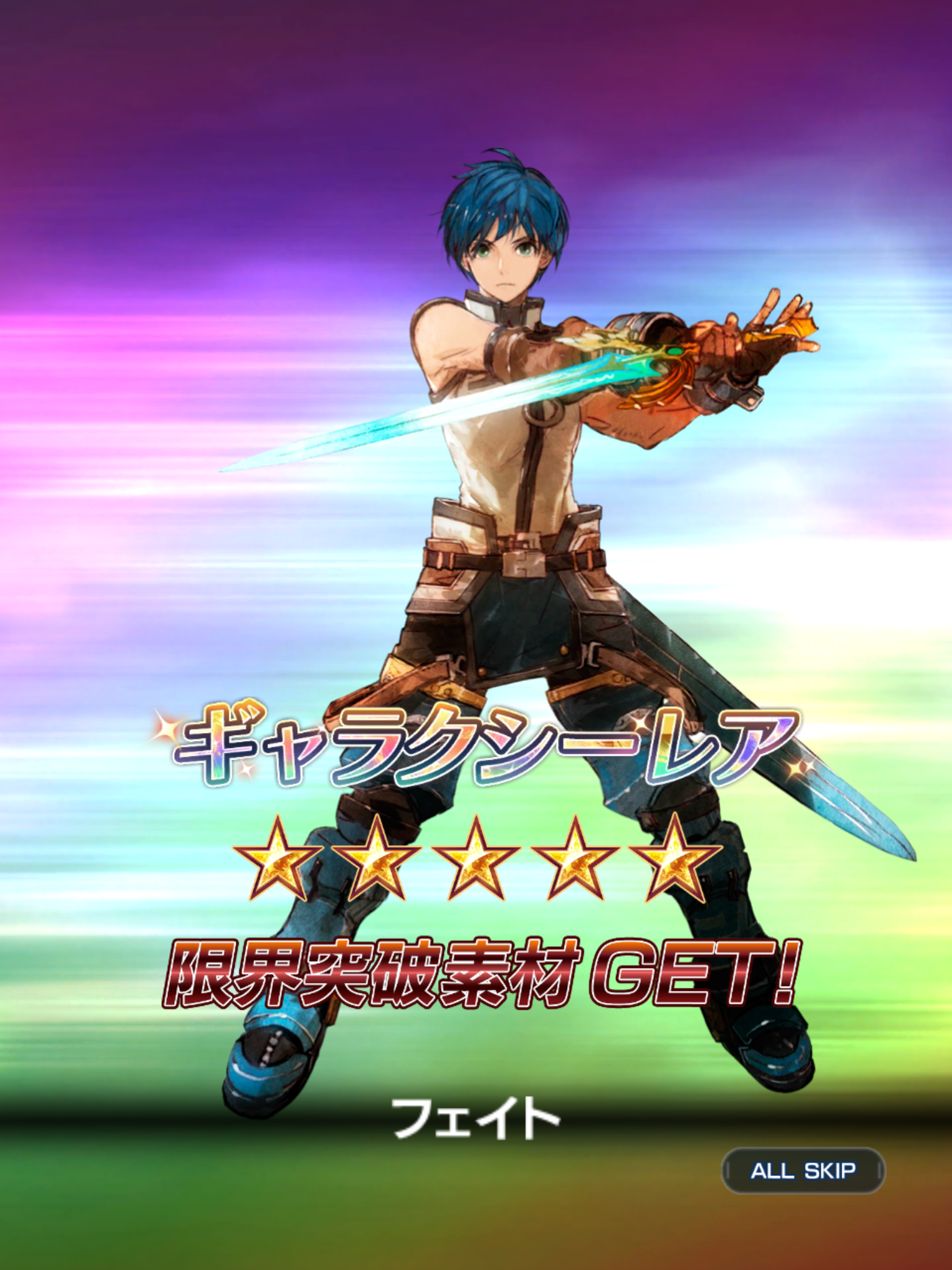 Fayt said 'No Rena'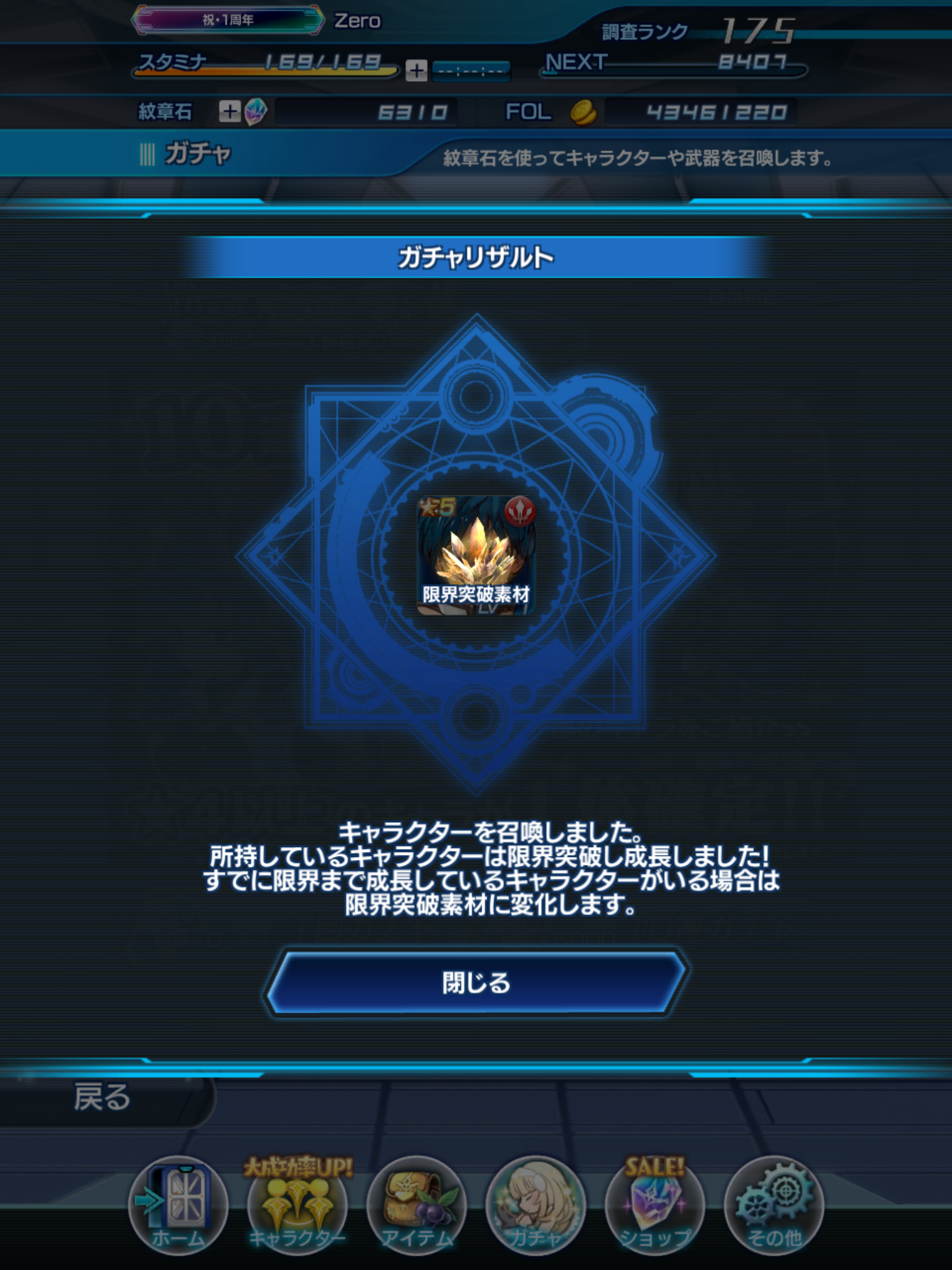 It my latest draw I felt like Fayt said you can have 9S and that sword but that was it

Now my main account time Luna account was unlucky to get 9S to this day Luna don't have 9S

I did that one time roll and I got that GS
Weapon Name: Beastlord
Type: Greatsword
Factor: Gain Light Attribute
Damage Taken -10%
Limit Break Factor: AP Usage Reduced by 10%
LB5/Lvl 20 Stats: 963ATK / 958 INT
Obtainable From: Gacha

For A2 however I tried again later a few days and I got another rainbow I said enough GS and I got...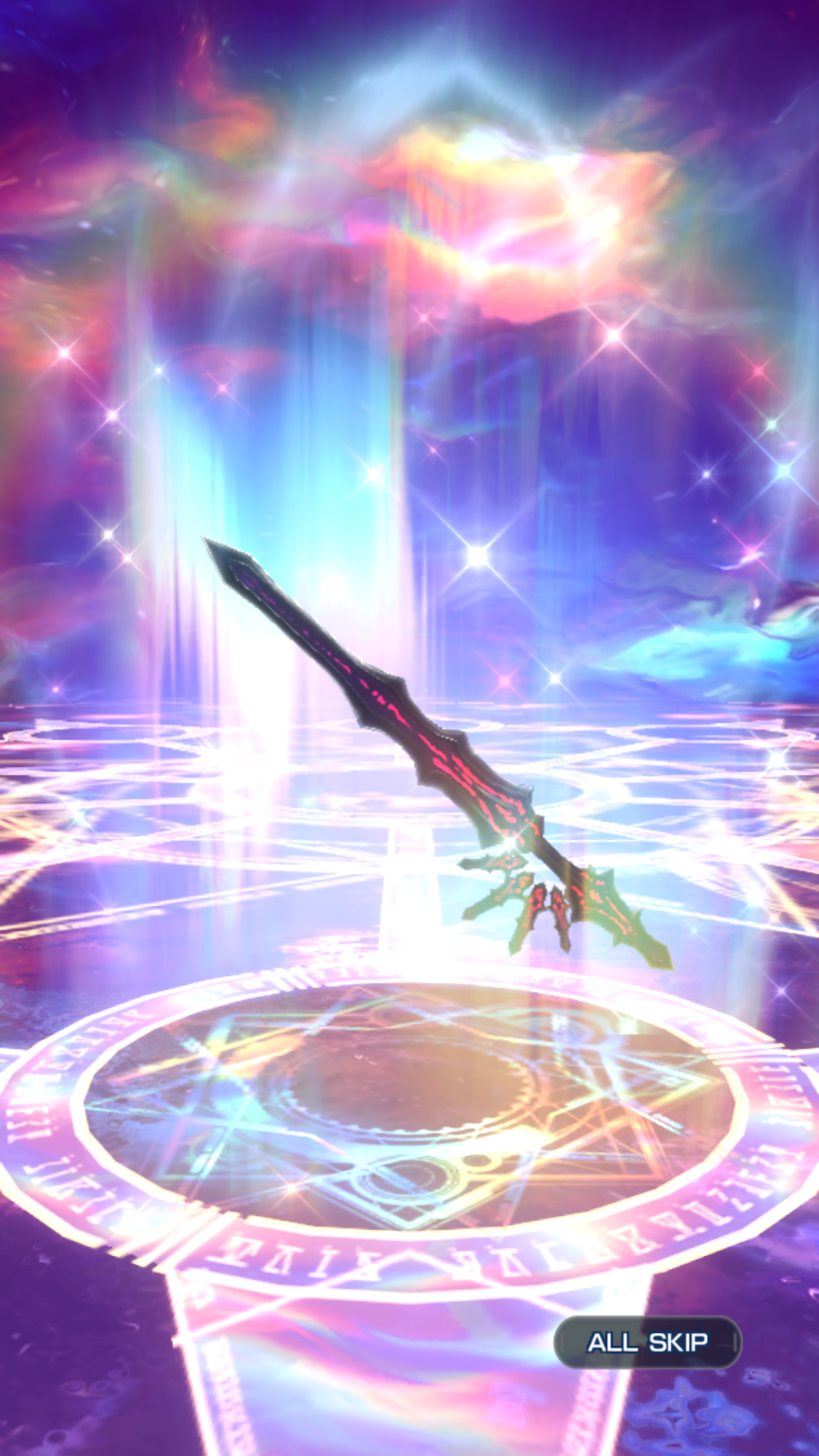 Uh...yup no Fayt in the free rainbow but his Sword come to me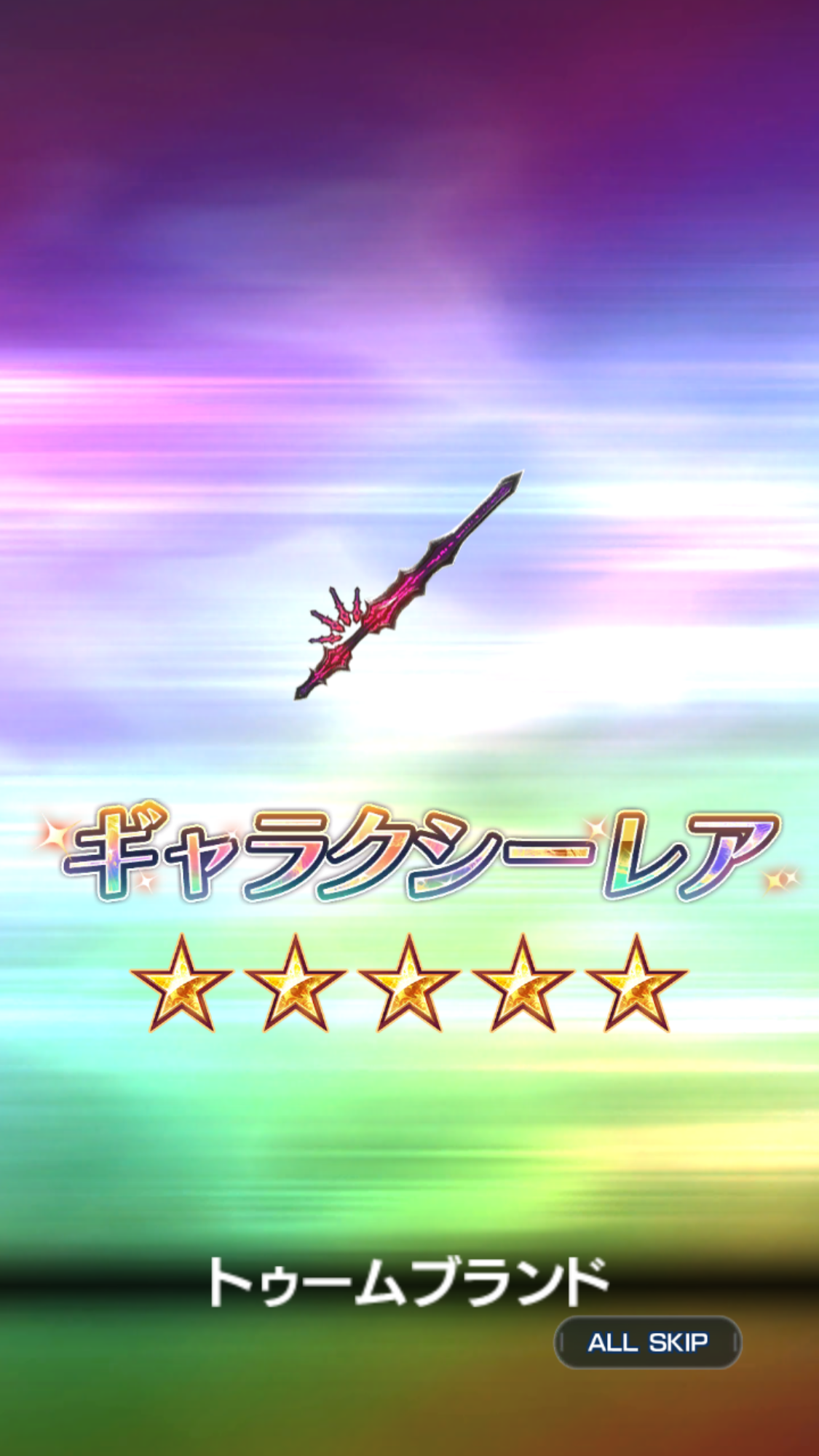 Another Fayt sword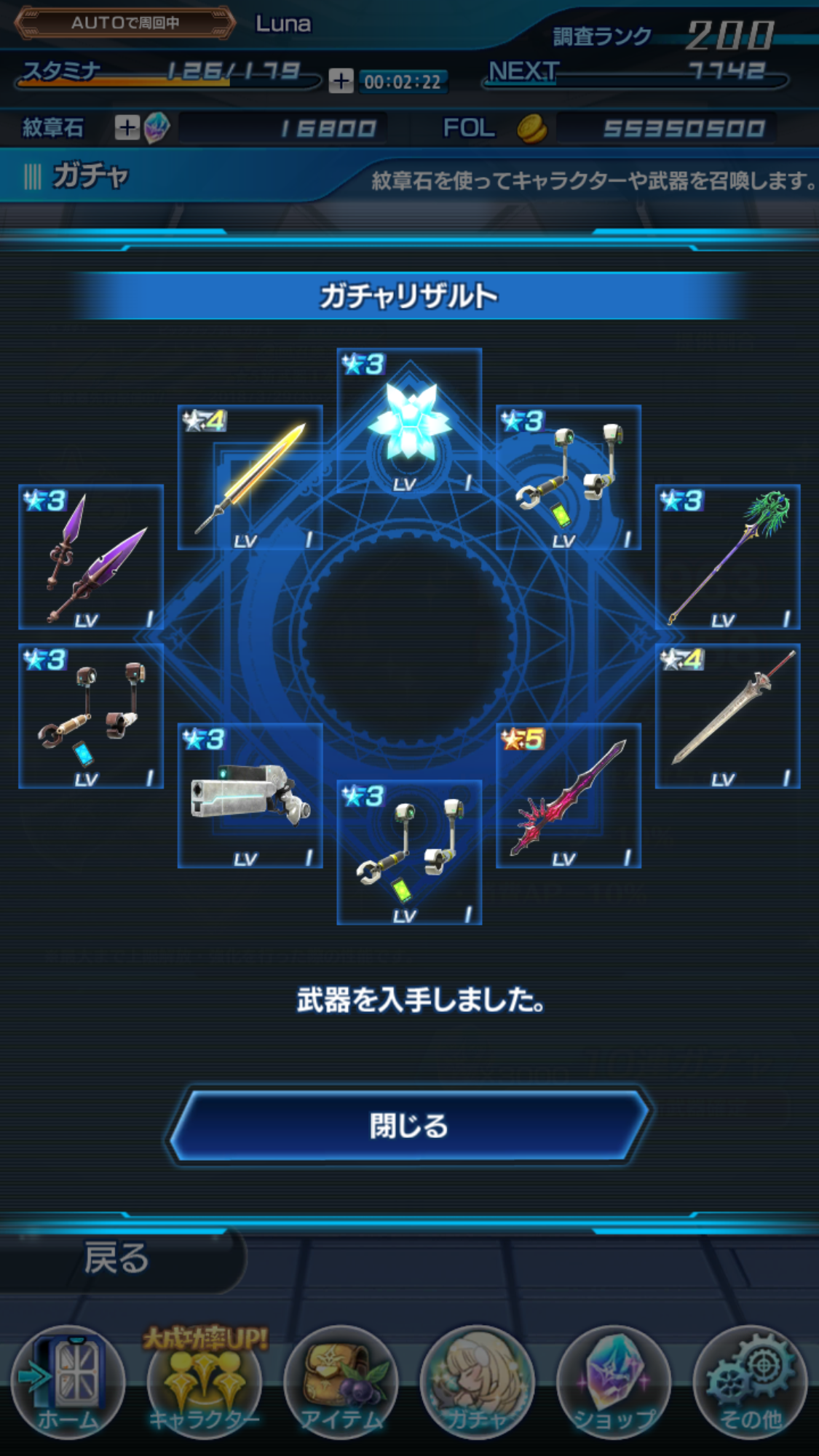 It did surprised me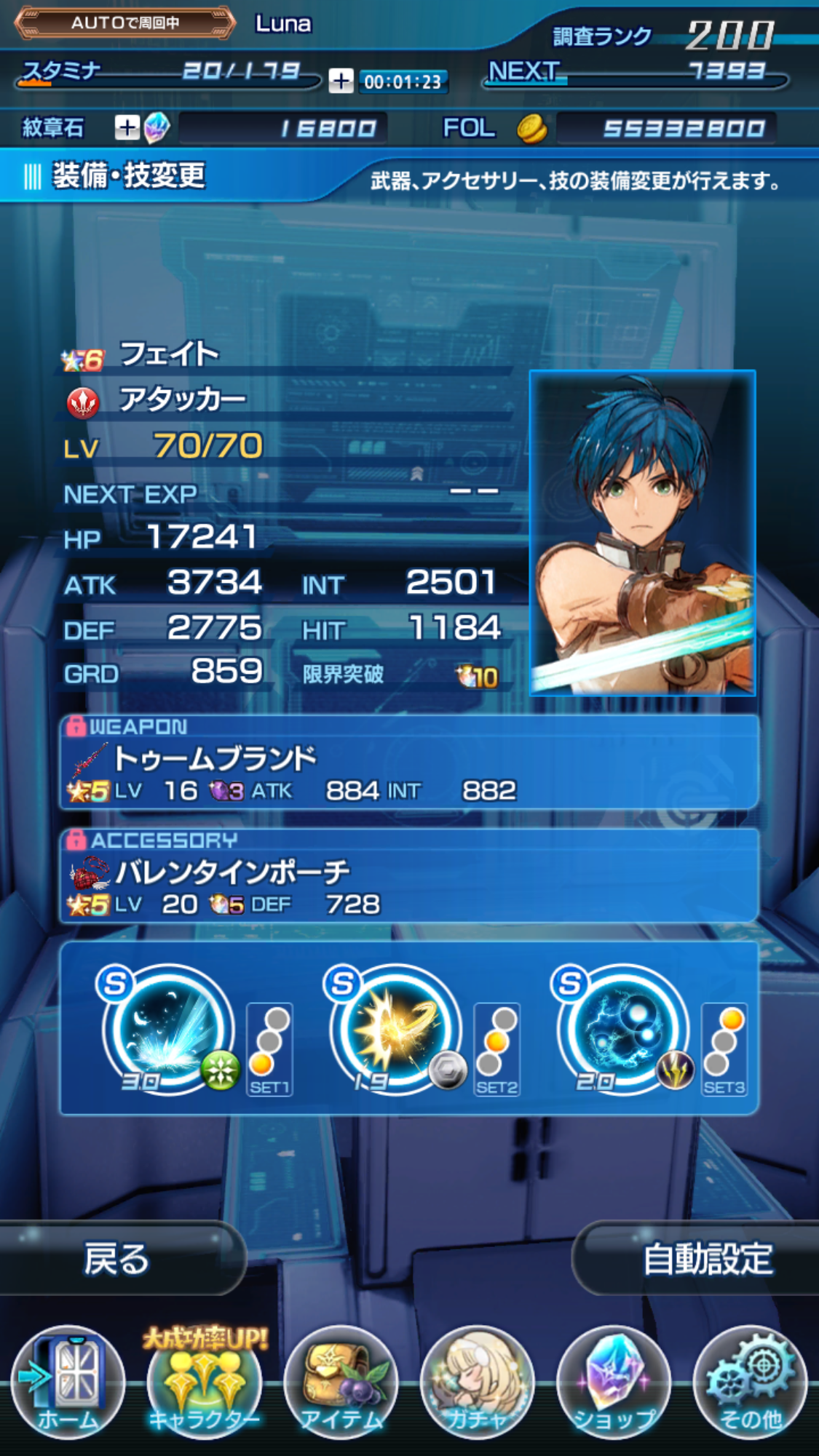 Looks like I'm going for Fayt weapon on my main account

*sigh* just win I maxed out B2 event weapon to use for my main account



I'm going to miss you Virtuous Contract B2 event weapon but I might use this sword again for boss battles for healing but otherwise back to Fayt weapon.

So I went to try the new Dias as a rental and went to go fight the boss and...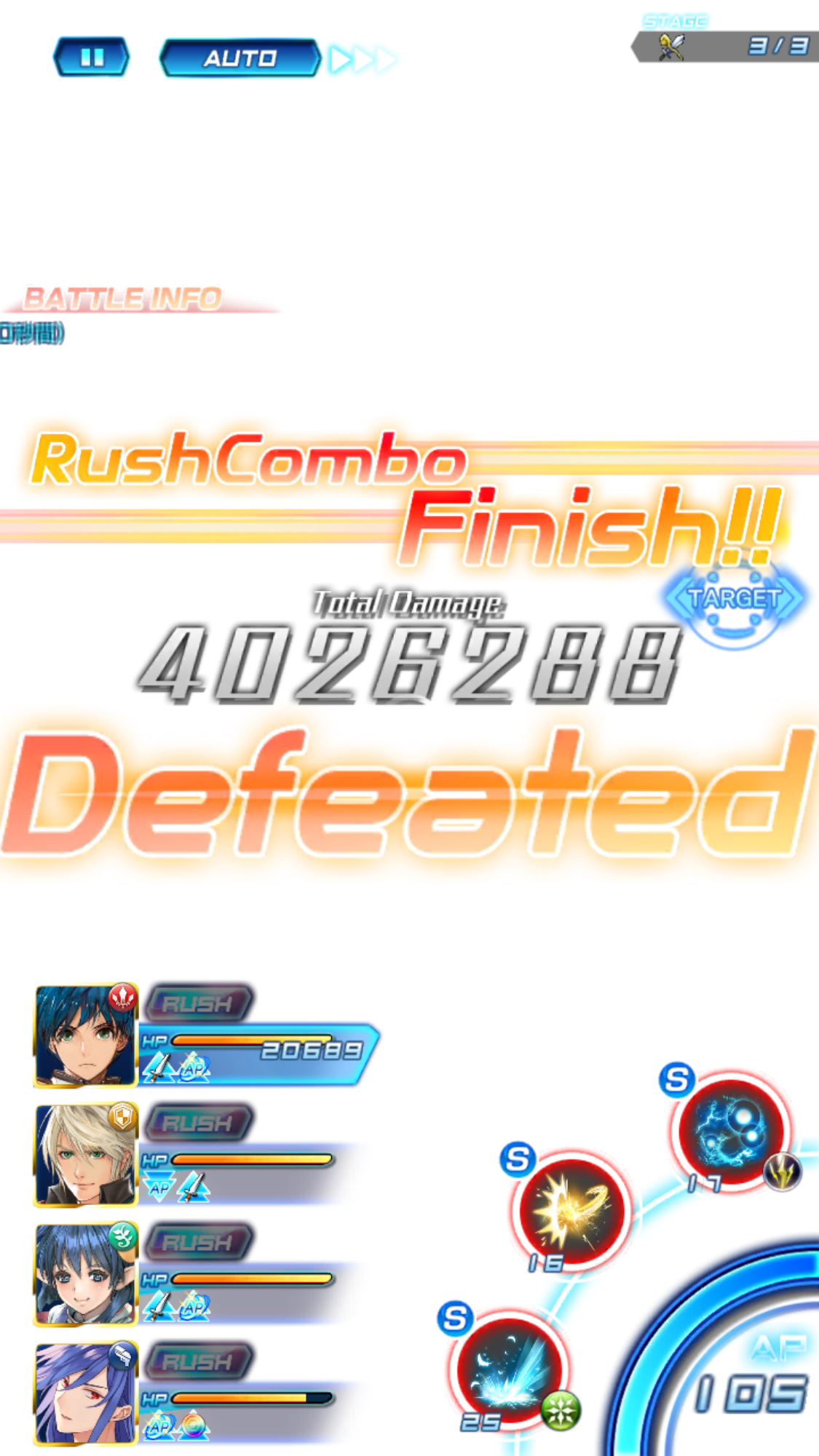 With Fayt sword my alt will never see these numbers



This surprised me and Dias rush is pretty I was like I think I better try to get this picture on my phone I hesitated but it got it maybe sorry for the bad pic
Sorry trying to tap on the phone win Fayt does his rush and taking a pic at the same time is hard...people say if you tap win they rush they will do more damage that the rumors say

So that is what is going on my alt as 9S do I use him I was for a bit until he collided with alt Fayt and well switching between Fed Edge and 9S on my alt account playing with auto battle you see there emotions and yes alt Fayt is lukewarm to 9S sometimes they get alone sometimes they don't

my main account main Fayt said no to me getting 9S and getting another of his weapon felt like he saying 'Focus' on me or my weapon or something I don't know so my main account stop chasing 9S I still got B2 event weapon for my main for healing I'm going to keep that sword

Oddly enough win play as A2 on my alt or my main account both Fayt on both accounts do not protest in fact I think they like it too much...put any other girl that I'm not playing as in the party they ignore them or protest so....yeah.

Well Fayt is into the whole VR world thing and A2 is an Android it don't surprised me at all I just got a feeling Fayt is attracted to anything internet related or VR related wise and I noticed Rena acts a bit jelly win A2 is in party win I play as her...hmmmm well females in this game I noticed if you play on auto battle you can see who they like and dislike anyway Rena is another possessive type of girl but so is Fayt he acts very possessive on auto battle and other guys it depends and who he can get alone with so far I can tell Fayt get along with Faize who been in many events with him *hint* *hint* and Fed Edge and Winter sky Fidel other guys who Fayt is with Fayt will collide with them that why I only use Rain or Dias on boss battle.

That why I was so surprised win Fayt did not protest win A2 was around or win I'm playing as her...I think Fayt might of like it too much that the feeling I got

A2 on my main account is maxed LB out and I have her GS now I use her in boss fights but that time I've taken her out and replaced her with Rain I switch them around A2, Rain and Dias sometimes my alt don't have a high A2 yet lack of LB stones.

This Cherry blossom event hinted a lot of Maria and Dias hints move over Albel you can't fight or flirt with Dias he's with Maria but that little ending with Chisato trying to find out what Dias is up to ruined the whole Maria and Dias moment...

And I was more surprised Faize was not with Fayt the last events they been together you know...and I have to say the whole Fayt and Roddick moment them teasing Dias like that they are hooked on watching romance I swear it might be a hint how romantic Fayt and Roddick really are but the guys did almost ruined that and mostly Albel upset emotions and yes Albel had the last words in that mini event.

>>Remember win Roddick and Fayt tricked Winter sky Fidel into a romance with Miki and Winter sky Fidel was so dense in that event

Yeah they are into romance alright no wonder Faize is not with them

And don't forget about June wedding event with Reimi and Fayt hello we get to see how much Fayt is romantic then must save gems must save gems...

Poor Albel he acted so upset and jelly that Dias was with Maria in this event and he did get the last words I think Albel might of wanted Dias attention I know that last event they was in they did fight a lot or maybe Albel wants Dias to fight him

Oddly enough Fayt and Albel are not talking to one another ever since that high school event in April we had it was Fayt who was obsessed on talking to Albel who was ignoring him and what happen was Fayt ended up in a lot of battles and getting frustrated that Albel didn't show up and that was the last contact Fayt had with Albel in the SOA story in the school event Fayt even brushed off Sophia for Albel she wasn't happy at all and she helped that guy off the battle area

After that Fayt has been stuck with Faize or doing something tricky with Roddick like setting Winter sky Fidel up with Miki them both alone since Wedding Event is coming up I was expecting more contact with our character and Fayt since he was chosen like getting closer to our character a bit somehow and I was expecting more Reimi like that also since Reimi was chosen also I will say this our character had more time with Fayt then we did with Reimi *hint*

However that event Dais and Albel had was all fighting and fighting at one point I thought...hey Albel ditched Fayt for Dias...until this cherry blossom event showed up with Dias and Maria *hints* all the way that is until Chisato showed up to ruined that dream even Roddick and Fayt was getting all 'drooling' over Dias and Maria getting together but Albel and Cyuss said otherwise thank you guys...>_<

And win Chisato showed up with Ilia I was like there goes that event.

But the Cherry blossom event was fun try it out and see for yourself.


This is all done from my experience everyone can have different experience play the game and see for yourself and if you like play the game on auto and see who like who.