Hello!


STAR OCEAN PROGRAM #11

Scheduled for Apr 25, 2017
スターオーシャンシリーズ最新作『スターオーシャン:アナムネシス』の公式生放送です。
今回はMCであるウェルチ・ヴィンヤードに加え、あのキャラクターがサプライズゲストとして生放送に初参戦します。

・新規キャラクター情報
・新規イベント情報
・今後の施策内容

など、最新情報をゲーム実機プレイ交えて公開予定です!

◆出演者
ウェルチ・ヴィンヤード(MC)
小林秀一(プロデューサー)
甲斐聖現(運営プロデューサー)
イヴリーシュ
????????(サプライズゲスト)

"Star Ocean Anamnesis Live Stream #11! The stream starts on 4/25 20:00 JP Time. This website has links to both Youtube and NicoNico. Like before they'll show previews of New Characters, New Event, and future contents. Welch is back like always as guest."
Link- https://discord.gg/brcCKRb

So yes Star Ocean Program 11 is going up people theorize we might get another Welch SO3 Welch but we have a caster and a fighter so maybe a healer?

And yes look forward to something new btw.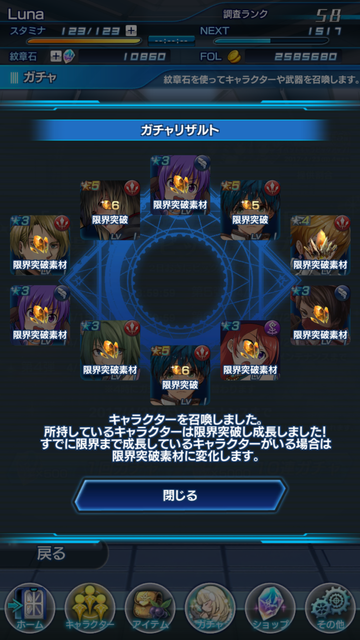 Blessed main account on Iphone Fayt drop twice this happen win the banner was up it changed today this was yesterday drop.
At first Albel drop 3 times and now this makes 4 Albel's I was like enough Albels give me Fayt dame it and this happen on the second roll and Yes I started off with a 4LB Fayt I was slowly working on him until I got the 2 drops but I used the small stone now Fayt is up to 7LB not bad.
So this is my main account I keep Albel 6LB with the team I'm working on either Claude or Fidel to be a 6 star hey my last 5 star ticket I got I finally got Fidel he was the last to come seriously that guy.

(For harder boss I got a 6 Star Dias or a 6 Star Rena or 6 Star Faize to help out and Dais got that 5 star fire sword from last weapon draw they had I tried to get the same weapon on my alt no luck T_T)

And yes Luna is named after my character 'Luna' from .Hack//N.U. I still miss that game dearly.

My alt account got Sophia and Anne >_> my poor Alt... my Alt account name is 'Zero' I think that was my .Hack//Guilty Dragon character name and Xion was also a name I favor in .Hack//N.U. he's special to me.


So this is what I'm playing I'm guilty of spending my money in this game I apologize I told myself over and over I will not get hooked unfortunately that didn't work the hooks got me good T_T

By the way I mostly play with Auto battle and I noticed how Fayt sometimes acts...it's cute and poor Albel from the school events to the fights I see that Fayt has a dominated air around him I still don't get why they make him a Uke in some stories I finally heard Fayt Japanese voice and wow...he can sound girly compared to Albel but Albel is more feminine so...

However if you are in auto and have Fayt in lead and have him in favor/leader whatever you call it on his state page he can act very...possessive I think I did play SO3 and had Fayt not 'leader' and Fayt did act possessive back then to...so it must be his nature or something but I also noticed compared to Fayt in SOA Claude and Fidel are the most laid back people in party.

But in SOA do not make Dais or Albel jealous it's not pretty I noticed Dais and Albel both have his withdrawn attitude a bit but Victor is a bit more open compared to them and yes I noticed this playing my main and my alt on auto and yes Faize has this weird aggressive side if you played that game you will know that Faize is Faize he has that nature his anger makes him rush faster if you ask me.

So you're character you named in SOA is the main character right? So I noticed that anyone is drawn to them naturally it makes a lot of drama if you ask me play in auto battle and see what happens I find it funny and cute.

Enough of this sorry for my chat but yes I had to say I did get a good roll on my main account.

But hopefully we will get a new event and maybe Edge? he's the last to arrive he better have different skills and no mirror blade on him please.
Ugh I still don't know why they given Fayt that skill and not Dimension Door I'm still a bit upset about that sorry.

And no I did not roll on the last Gacha but I heard people in Japan dislike Shooter Lymle? And some people was getting kicked win using her?
That a touchy subject I myself never did like Lymle but I almost did find Shooter Lymle a bit cute but I never used her but so far I'm saying that's a rumor for now.

However that story with Lymle it was drama all over again and Faize oh boy I felt like Faize trust the main character yet somewhat misses Edge given the fact Edge isn't even in the game yet the school stories are cute and funny if you are not aware school stories are in the game and going on for a limit of time and some passed last one was with Sophia, Fayt and Albel the new one is with Fidel and co there banners make the more chances you get to draw them.


So yes be ready for this upcoming live program and wish for the best a new event crossover or the very very late Edge.

I'm also using the background from the school event as wall papers for my Iphone and Ipad love the cherry blossoms I like it over the default one so if you're going to take pictures of who you like take it now.