Hello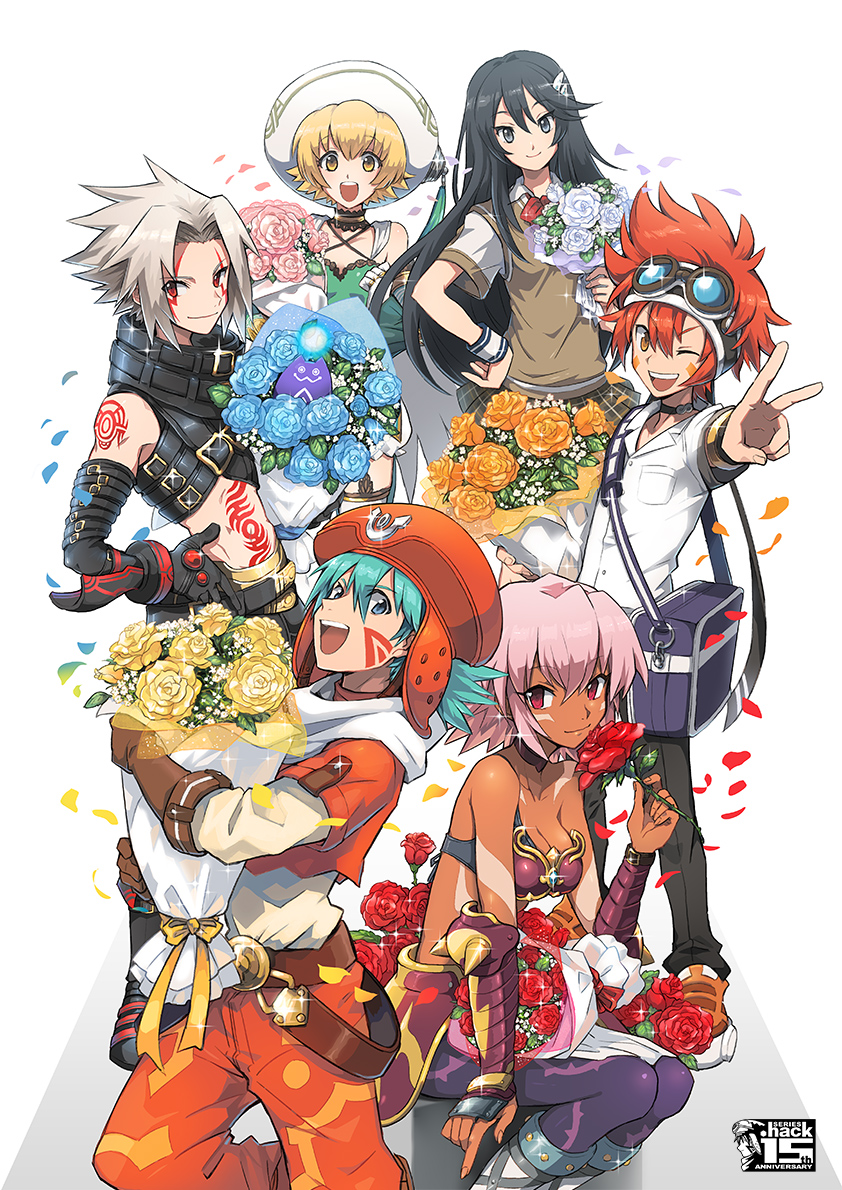 Haseo has blue rose....O_o that a sign to either Ovan or Azure Kite but...blue blue flames...blue rose O_o
(Haseo is best Waifu)

Yellow Rose are friendship versus Red Rose that are romantic.

Hint hint Tokio and Kite both have yellow roses okay Tokio is golden rose but it still yellow...
(That how far I go with flower language sorry)

This picture just has fan service all over it.

Now for the girls they didn't need to be there however if they are going to push for this they have to be there cannon wife er...Waifu.

Atoli I don't mind BlackRose has to be there you know how she is...>_> *cough* .Hack//Link BlackRose anyone?

Saika she can go with Tokio she is another Tsundere.

link-http://hack.bn-ent.net/
New website.

They posted the timeline



And yes .Hack//Versus was mention so was both phone games.

However we have no idea how .Hack//Force Era is we had a idea that they was playing it but we never got anything out of it that was before .Hack//Guilty Dragon and .Hack//N.U. come out.

But unfortunately .Hack//Link did happen the way they present .Hack//G.U. Last Recode tells me much if you recall Tokio has the power to time travel right? (Or Tokio has access to it) If they are calling it 'Last Recode' did something happen in the G.U. timeline that's why we are getting a somewhat remake? (That is a theory for now)

Oh man I know they said they wanted to draw in the younger 'people' that's why they started with G.U. not the original.

However if they do add...Tokio they need him as an adult like they had him in .Hack//Versus to show .Hack//Link did happen.

another rumor going around this might be connected to .Hack//Guilty Dragon oh boy...so Phantom Haseo anyone?
Link-http://dothack.wikia.com/wiki/Black_Clad_Destroyer

But if they are going do change G.U. timeline just a little don't you think Tokio or Kite would be in it?

I mean half the fan base was upset how Haseo fate ended in .Hack//Link it was almost like G.U. didn't even happen...but then again why are we getting .Hack//G.U. Last Recode something must of happen again.
I'm not going to think too much of this 'why it's happening' I'm going to stay with the hype...

.Hack//G.U. Last REcode for PS4 whooo I'm waiting for the date for it to be out and we do know that it's now trademarked in Europe
link-https://twitter.com/RPGSite/status/875356160408166400

So we're getting close the question is English or Japanese? I want both...but I can only buy one at the moment so I'm going with the first one that comes out maybe the Japanese voices but I like the English voices to...

Again this just my thoughts everyone can have different ideas and maybe half the guesses are theories for now we don't know if we might be getting Phantom Haseo it just a rumor.

However we do know that they are giving us so little info about this game...and it's driving me nuts and we don't know what has been added to the game and any new characters.

And yes I'm keeping a close eye on twitter it looks like all the info is coming from twitter >_<; beside the new website
Link-http://hack.bn-ent.net/

So get hyped for .Hack//G.U. Last Recode I'm excited I want to play it now.